How to Become a Graphic Designer? Graphic design is a highly sought-after skill that can take years to learn. In today's hyper-competitive job market, any skill that can set you apart from other applicants is a great asset.
The good news is that you don't need a four-year degree to get a good job in this industry. So, how do you become a graphic designer? We'll break it down into five easy steps.
How to Become a Graphic Designer
Graphic design is the art of visual communication and problem-solving through the use of typography, photography, illustration, and page layout. It's integral to every facet of our lives, from the cover of your favorite book to the look of your business cards. If you're ready to become a graphic designer, you're in luck. With just five easy steps, you can become a graphic designer, too.
You've finally made up your mind. You want to become a graphic designer. But where do you start? We'll walk you through the five basic steps to becoming a graphic designer.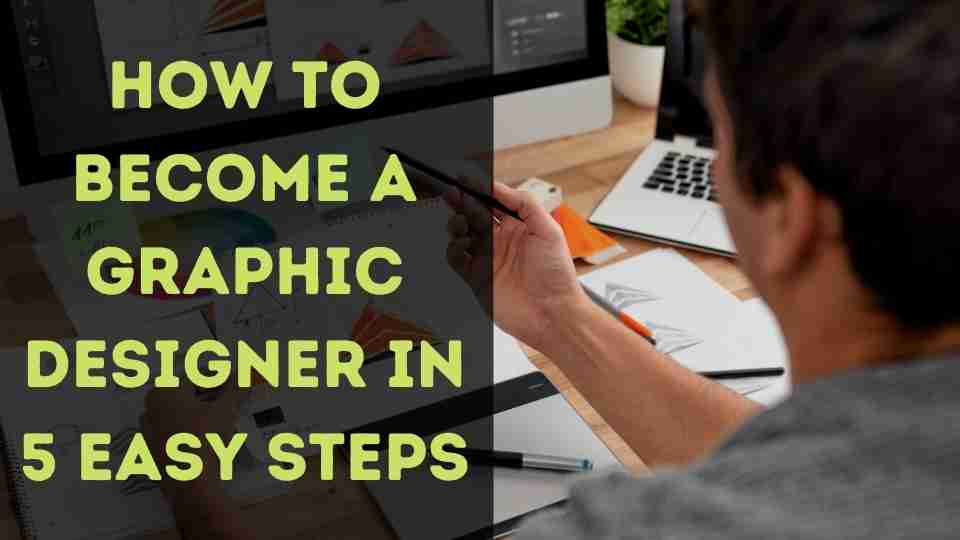 Do you have a passion for design? Do you have a knack for color, typography, and layout? Do you have an eye for what's aesthetically pleasing? If you answered yes to any of these questions, then becoming a graphic designer may be a good fit for you. We'll walk you through the steps to becoming a graphic designer, from choosing a design school to getting a job after graduation.
How to start becoming a graphic designer
To start your career in graphic design, you will need to earn a graphic design degree. A degree is not necessary, but most employers prefer to hire designers with some form of formal training. A degree in graphic design will give you the skills you need to create beautiful and effective designs.
In addition to a degree, you will also need to develop your skills in the following areas: typography, layout, color theory, and brand identity. These skills can be developed by taking graphic design classes, reading design blogs, and participating in design communities.
Graphic design skills you need
So you want to be a graphic designer? It's a great career choice with a lot of potential. But what skills do you need to make it in this field? Here are the essential graphic design skills you need to know:
A designer is only as good as their skills. So what skills do you need to become a graphic designer? Here are the basics: design software, typography, layout, color theory, and image editing.
With that foundation, you can then move on to specialize in a particular area, such as web design, print design, or logo design. It's important to note that graphic design is a versatile industry, so you don't have to be an expert in all of these skills. But if you want to be a successful designer, you'll need to be proficient in at least some of them.
How much graphic designers make
Graphic designers make a median salary of $47,640 per year. The highest-paid 10 percent earn more than $77,810, while the lowest-paid earn less than $29,590.
Entry-level graphic designers typically make around $35,000 per year, while more experienced designers can make six-figure salaries. So, how much you make as a graphic designer really depends on your experience and skills. But, no matter what, graphic designing is a very lucrative career.
How to get graphic design internships
The best way to get started in graphic design is to intern at a design studio or agency. While you may not be able to land a paid position right away, internships are a great way to learn the ropes and make connections in the industry.
Also Read: How to Become a Web Developer in 5 Easy Steps by experts
Don't be afraid to reach out to studios in your area and send them your portfolio. If you don't live in a big city, don't worry—there are plenty of online graphic design internships you can apply for. Just make sure you do your research and only apply to reputable programs.
How to build your personal brand
A great way to set yourself apart from other graphic designers is to build your own personal brand. What does that mean? It means creating a unique identity for yourself and sticking to it. You can do this by creating a personal website or blog, setting up social media accounts, and even creating your own logo and branding guidelines.
Also Read: How to Become a Software Engineer: Top 5 easy ways by expert
Once you've established your brand, make sure to consistently communicate it across all of your platforms. This will help people remember who you are and what you stand for. Standing out as a graphic designer is key, and building your personal brand is a great way to do just that.
Conclusion:
Graphic design is a great field to get into if you enjoy thinking about visuals as much as words. It requires careful thought and planning, but the end result is always interesting and beautiful. If you want to learn more about graphic design or become a graphic designer yourself, follow these 5 steps for guidance on how to start on your way.
With all the design programs and online courses available, it's easier than ever to get started on your path to becoming a graphic designer.
If you have the passion, motivation, and drive necessary for success in this industry, this is one of the best times in history to be looking into how to become a graphic designer. We hope that we were able to help provide insight into some of these steps and wish you nothing but luck on your journey!
Also Read: How to Become a Game Developer in India – A Step by Step Guide
As a graphic designer, you have a huge hand in defining the aesthetic of any brand. If that makes you excited, then congratulations! You're going to love being a graphic designer. The best way to get started is to take stock of what you can do and where your strengths lie.
Once you know your skill set inside and out, start taking on projects one at a time until your portfolio builds up with enough work for potential employers or clients to see how great of an asset you'll be to their team.