How to Become a Game Developer in India: The gaming industry has been growing rapidly in India. Games have become a part of our culture and the industry is flourishing. Game development companies in India have been flourishing over the past few years.
With this growth, there is also a growth in the demand for game developers in India. If you are interested in the gaming industry and want to become a game developer in India, then you are at the right place. This article will give you a step-by-step guide to becoming a game developer in India.
How to Become a Game Developer
Gaming is a worldwide phenomenon that is growing in popularity by the day. Game development is an extremely lucrative career that is projected to grow exponentially in the coming years. But, before we get into the details of how to become a game developer, we need to understand what is game development and what do game developers do.
Are you an avid gamer who would love to give it a shot in the gaming industry? If yes, then this post is just for you. We have designed a step-by-step guide to help you become a game developer and work with some of the world's biggest and best game studios.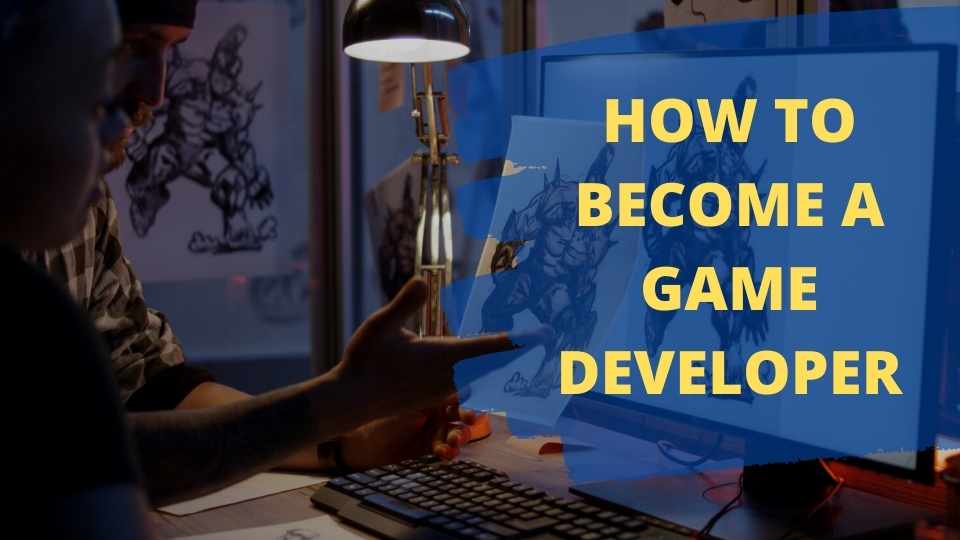 We'll provide you with the necessary information that you will need to pursue a career in this industry and give you an insight into what you can expect from your life as a game developer.
1. How to choose a language
One of the first steps in becoming a game developer is to choose the language you want to develop in. There are many languages to choose from, and the right one for you depends on your goals and skill level.
If you want to create simple mobile games or websites, then a language like HTML or Java might be a good choice for you. If you're looking to create more complex 3D games, then you'll need to learn a language like C++ or Python.
Whichever language you choose, make sure you commit to learning it inside and out. Don't try to learn multiple languages at the same time – it's only going to confuse you and slow you down.
2. requirements to become a game developer?
Becoming a game developer is not as difficult as one might think. It just requires a few basic steps and some determination. The first step is to have some understanding of computers and coding.
Though you don't need to be a programming expert, you should at least know the basics of how to code. The second step is to have some skill in art and design.
This could be in the form of drawing, animation, or 3D design. The third and final step is to have some experience in game development. This can be done through online tutorials or even game jams. Once you have all of these, it's time to start building your portfolio and applying for jobs.
3. How to go about making a game.
Making a game is no small feat. It requires a lot of hard work, creativity, and technical skill. But don't worry, we're here to help. Let's start by talking about the basics.
What does it take to make a game? Well, the first thing you need is a game engine. This is the software that powers your game and helps you create the visuals and gameplay.
There are a few popular game engines out there, but Unity is a great option for beginners. It's user-friendly and has a ton of tutorials and resources available online. So what do you need to know to use Unity? Not much – you can start by reading this tutorial.
4. Skills needed to be a game developer
If you're interested in becoming a game developer, there are a few essential skills you'll need to learn. The first is obviously coding. As a game developer, you'll be working with code to create the games you and your team dream up.
Also Read: 5 Best Way to Learn Python Programming Language From Scratch
You'll also need to be familiar with game engines, which are software programs that help you create games. Unity and Unreal are two of the most popular game engines. You'll also need to be comfortable with 3D modeling and animation.
This is what you use to create the characters and scenery in your games. Finally, it's always helpful to have a strong artistic background. This can help you come up with new and innovative ideas for your games.
5. What is a career as a game developer like?
As a game developer, you'll be responsible for designing, creating, testing and maintaining video games. Your job will be to make sure that the games are fun and engaging to play, meeting the expectations of the players and the game developers.
Also Read: pyhton
It can be a challenging and rewarding career, but it's also a lot of hard work. You'll need to be creative and have a good sense of design, as well as be able to work well under pressure.
There's a lot of software and technology involved in game development, so you'll need to be comfortable with computers and be able to learn new programs quickly. It's also important to have a good understanding of the gaming industry and the players who make up the target market.
Conclusion
Game development is a highly rewarding career that allows you to not only bring your ideas to life but also earn money from them. However, if you're looking for a job as a game developer in India, there are some things you need to know first before making the commitment. We've created this guide so that developers can learn how they can become game developers in India easily and quickly.
At this point in time, there is a huge demand for games and people who can create them. If you too want to become a game developer then your first step should be to choose the right language. Besides that, if you have any sort of experience in developing mobile apps it will help but not mandatory and once again it depends on the type of game you wish to make.
To become a game developer, you need to have an interest in video games and be willing to put in the hard work. Game development involves a lot of trial and error, so remember that you will not become successful overnight or without making mistakes along the way. At first, it may seem like there are so many things you need to learn about coding languages but once you get started it will all come together!
Hope this article about How to Become a Game Developer will help you to become a successful game developer, and wish you developed a popular game in the future, best of luck with your carrer.